Presents
SALTYDOG'S RAGING FIRE WC
Sire: CH WHITEPOINT'S CHEDABUCTO LEGACY RE PCD RI
Dam: SALTYDOG'S IMPRESSIVE RED WC
Whelped: 10/17/2017
PENDING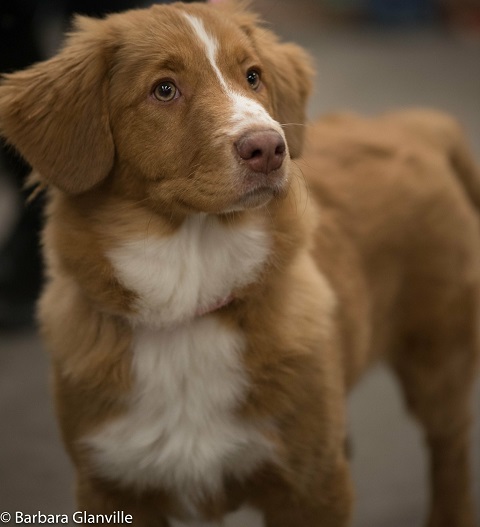 WIGEON
Achievements:
 

WIGEON,
Every now and again comes along a dog that has special talents! We believe this girl Toller may be one of those dogs.
Wigeon is our youngest female Toller. She may not realise that she is too young to be performing the tasks that are being asked of her. She has such a desire for the field game that she truly doesn't know her own limitations.
I can hardly wait for this puppy to grow into a beautiful little red and white gun dog!
In August of 2020, Wigeon received her WC title.
Pedigree of "SALTYDOG'S RAGING FIRE WC"

Parents
GrandParents
GreatGrandParents
SIRE

CH WHITEPOINT'S CHEDABUCTO LEGACY RE PCD RI     

CH CHEDABUCTO'S PRECIOUS PUP

 CH LANDSEND BEAU BRUMMEL CD
CH CHEDABUCTO'S PEGGY LEE
KARE'S WHITEPOINT BREIGH
CH KARE'S RED HUNTER MH WCX WCI(USA)
CH WASSOOKEAG KIT KATT FOR KARE CD AGI WC

DAM

SALTYDOG'S IMPRESSIVE RED WC

REDLAND'S SALTYDOG XPRT SCOUTER
REDLAND'S PEGASUS DECOY MH WCX WC(USA)
REDLAND'S HOT CHILI PEPPER
CH KARE'S OCEAN TIDE WC
KARE'S RED TYPHOON JH WC
CH CHEDABUCTO'S TAKE A CHANCE